Last updated: January 3, 2019
Mountain Music Festival ("us", "we", or "our") operates the Mountain Music Festival website (the "Service").
This page informs you of our policies regarding the collection, use and disclosure of Personal Information when you use our Service.
We will not use or share your information with anyone except as described in this Privacy Policy.
We use your Personal Information for providing and improving the Service. By using the Service, you agree to the collection and use of information in accordance with this policy. Unless otherwise defined in this Privacy Policy, terms used in this Privacy Policy have the same meanings as in our Terms and Conditions, accessible at https://mountainmusicfestwv.com
INFORMATION COLLECTION AND USE
While using our Service, we may ask you to provide us with certain personally identifiable information that can be used to contact or identify you. Personally identifiable information ("Personal Information") may include, but is not limited to:
Name
Email address
Telephone number
Address
LOG DATA
We collect information that your browser sends whenever you visit our Service ("Log Data"). This Log Data may include information such as your computer's Internet Protocol ("IP") address, browser type, browser version, the pages of our Service that you visit, the time and date of your visit, the time spent on those pages and other statistics.
COOKIES
Cookies are files with small amount of data, which may include an anonymous unique identifier. Cookies are sent to your browser from a web site and stored on your computer's hard drive.
We use "cookies" to collect information. You can instruct your browser to refuse all cookies or to indicate when a cookie is being sent. However, if you do not accept cookies, you may not be able to use some portions of our Service.
SERVICE PROVIDERS
We may employ third party companies and individuals to facilitate our Service, to provide the Service on our behalf, to perform Service-related services or to assist us in analyzing how our Service is used.
These third parties have access to your Personal Information only to perform these tasks on our behalf and are obligated not to disclose or use it for any other purpose.
SECURITY
The security of your Personal Information is important to us, but remember that no method of transmission over the Internet, or method of electronic storage is 100% secure. While we strive to use commercially acceptable means to protect your Personal Information, we cannot guarantee its absolute security.
LINKS TO OTHER SITES
Our Service may contain links to other sites that are not operated by us. If you click on a third party link, you will be directed to that third party's site. We strongly advise you to review the Privacy Policy of every site you visit.
We have no control over, and assume no responsibility for the content, privacy policies or practices of any third party sites or services.
CHILDREN'S PRIVACY
Our Service does not address anyone under the age of 18 ("Children").
We do not knowingly collect personally identifiable information from children under 18. If you are a parent or guardian and you are aware that your child has provided us with Personal Information, please contact us. If we discover that a child under 18 has provided us with Personal Information, we will delete such information from our servers immediately.
COMPLIANCE WITH LAWS
We will disclose your Personal Information where required to do so by law or subpoena.
CHANGES TO THIS PRIVACY POLICY
We may update our Privacy Policy from time to time. We will notify you of any changes by posting the new Privacy Policy on this page.
You are advised to review this Privacy Policy periodically for any changes. Changes to this Privacy Policy are effective when they are posted on this page.
CONTACT US
If you have any questions about this Privacy Policy, please contact us.
Got Questions? We've Got Answers!
Grounds
The festival takes place on natural, flat grounds. No cement walkways or otherwise have been added. Most areas are maneuverable by wheelchairs or other motorized vehicles.
Camping
There is no designated accessible camping area as all areas are accessible. It is up to each patron to decide whether a certain area is more difficult to access than others.
Parking
Accessible parking is available, as long as the car being used holds a handicap parking pass. When you arrive at the festival, ask for accessible parking and you will be properly directed.
Accessible Bathrooms
Accessible bathrooms and showers can be found at the main gate area inside the festival grounds. You will find location information on the map once you arrive on site.
Service Animals
Patrons with service animals must check in with the Welcome Center. Only animals with a service animal tag will be allowed on site. If at any time the animal is out of control, puts patrons at risk, is uncontrollably loud, acts as a threat to other patrons, or is abandoned by owner and left alone in the park or car, our staff has the right to request that your animal be removed from the grounds.
Motorized Vehicles / Mobility Devices
Motorized wheelchairs and scooters with three plus wheels are allowed to be used by patrons with disabilities. No golf carts, 2 wheel scooters, or other motorized vehicles may be used. All mobility devices should be operated no faster than walking speed.
On-Site Help / Accessibility Center
If at any time, while on site, you have more questions, need assistance or just want to say hi, swing by the Welcome Center for more information. Our staff is there to help!
Questions
For any questions, or if you can't find what you need here, please email info@MountainMusicFestWV.com
Festival Rules
"The Golden Rule": Please be respectful to your neighbors & consider their comfort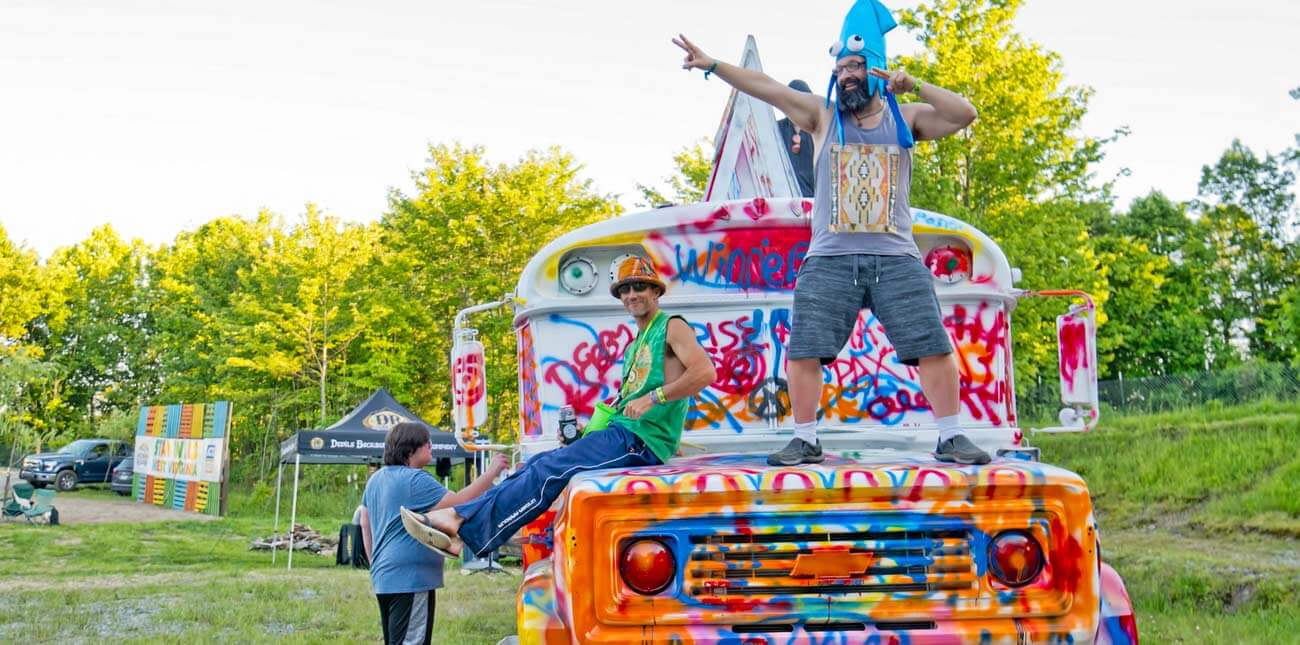 Rules for The Mountain Top
Have fun & love life
No Pets inside the festival grounds
No Glass Bottles
No outside food or drink inside the festival grounds – NO OUTSIDE Alcohol
No Illegal drugs, weapons, fireworks or Nitrous Tanks are allowed on resort property
No unauthorized vending permitted
Underage drinking is strictly prohibited
No bicycles in the festival grounds.
Respect the environment. Please use trash and recycling container.
Park only in designated areas. If your vehicle is found in an unauthorized area it will be towed to the onsite tow lot and a fee will be assessed.
Please be prepared for a bag search at the main ticket gate.
Listen to and be respectful to all staff members, whether it is a parking attendant or a police officer.
Remember our #1 goal is everyone's safety.