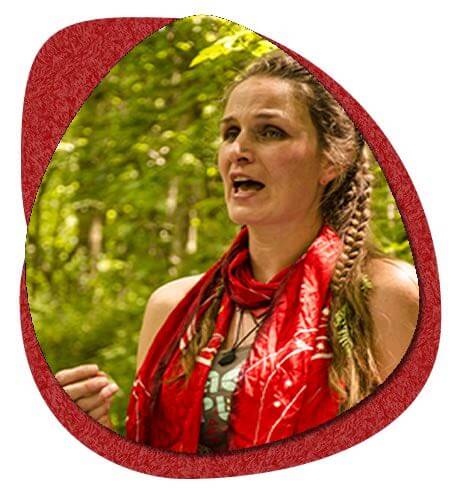 Tara Caldwell
Mountain Smudges and Herbal Incense 
Craft your own unique incense while learning about plants in our area that can be used for smudging, medicine and magic work. 
Community Garden and Plant Exchange 
Grow your Mountain Music Festival experience participating with plants. We will share the magic and mystery of Elderberry as well as propagations for you to grow at home.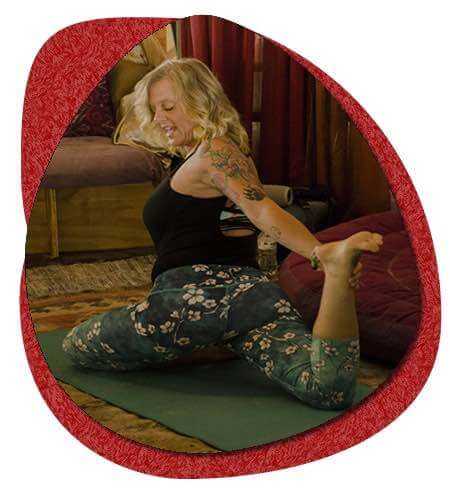 Candace Evans
Join Candace (also an avid live music lover) for this fun all levels Vinyasa class. This class is an all bodies are welcome, heart centered, breath driven, foundation rooted, alignment detailed practice that will leave your mind in check, strengthen and lengthen the muscles in the body, as well as, align your whole complete self with the universal around you. This will be a slower, deliberate, compassionate, several breath in each pose kinda practice. Leave your ego aside and join us to move your body. This practice will leave you "yoga stoned" and ready for more dancing and fun at Mountain Music Fest! Excited to see you on the Mountain.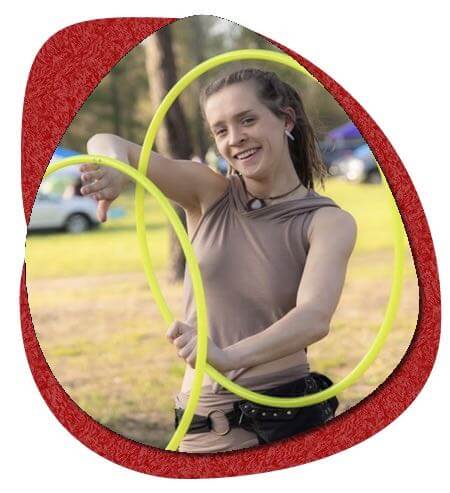 Kinzspinz
Single Hoop Workshop: Isolations and Illusions
This single hoop workshop will down various isolations and fun illusions to add into your flow. Participants will learn a wide range of skills including simple skills such as a one handed isolation, and complex skills such as an around the world isolation. No experience or hoop required – all levels welcome!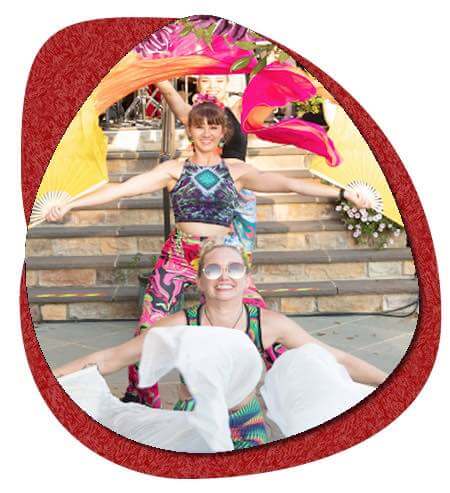 Fluidity Performance
Silk Fan Workshop
We invite you to join us in learning basic & intermediate moves with silk fans. We provide 10 fans for anyone interested in learning this incredible skill. The workshop will include 3 Instructors providing small stretches, on-the-spot tricks to try, Q&A From attendees to instructors & a few body & prop moves to try at home. We hope you join us for 1 hour of pure fluid fun.
Workshop Instructors: FairyLoops / RollwtheFlow / Maria_Ekaterina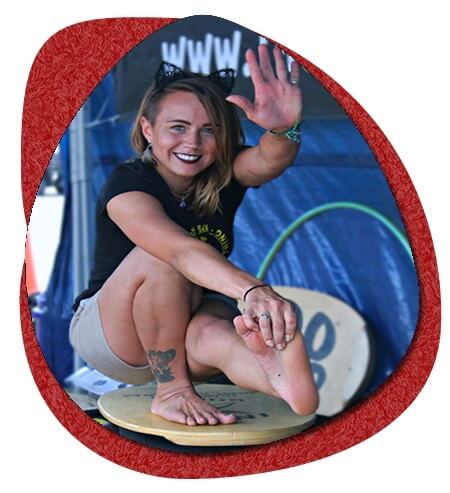 Ahlee Dawson
Indo Fun 101
Learn how to "rolla bolla" – we are going to challenge your balancing skills! We will introduce students to "Indo Board"-style rolla bollas of several different shapes, sizes, weights and colors. Participants are paired up with a "safety buddy" for the entire workshop – so prepare to make friends (or bring a friend)! We will cover:
-how to be a safety buddy & safely practice at home without one
-proper stance
-controlled movements
-strength building exercises
-"evacuation"
– 3-5 basic tricks
The Indo Corner
Test your balance skills with Indo Board rolla bollas under the safe supervision Ms. Ahlee Dee the Indo Board Ninja herself! Ahlee will guide you, as you learn how to balance safely and with control! Prepare to get a work out because this equilateral exercise stimulates your core AND stabilizer muscles! All skill levels are welcome and both beginners and masters alike will have a safety buddy to challenge them and encourage them as they grow. Maximum fun guaranteed!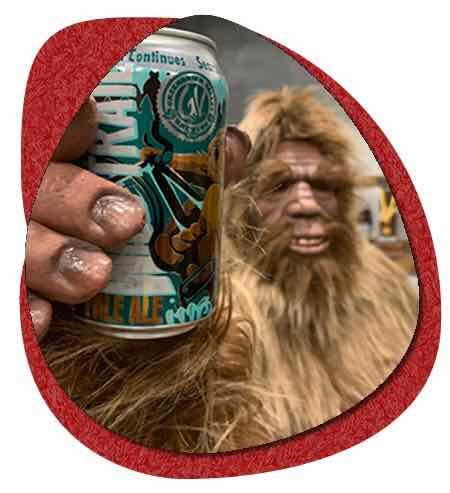 Meet the Brewer - Greenbrier Valley Brewing Company
Get Out. Explore. Bring Beer. That's what we are all about at Greenbrier Valley Brewing Company and why we love ACE Adventure Resort & Mountain Music Festival so much. We have been proudly making West Virginia craft beer since 2014 in Maxwelton. We are excited to show off our range of brews including our best selling Devil Anse IPA, Braxxie Blonde Ale, Wild Trail Pale Ale and more. Get a taste of our beers and learn about the crypids and Mountain State legends represented by our brews.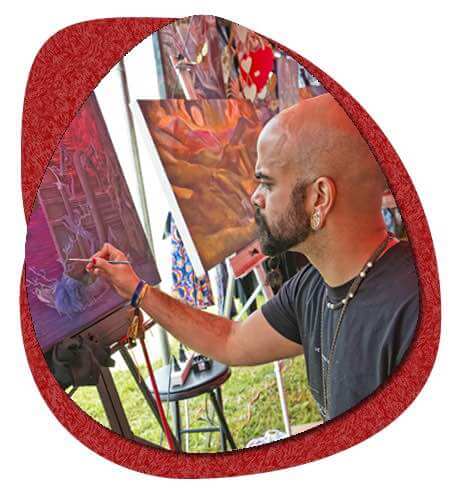 Harrison Crawford
Courting the Composition: (beginner/introductory)
With this exercise, H. L. Crawford shows a way to explore the practice of cultivating the subjects and shapes of a new work of art by sketching, researching, journaling, and creating a map of how to execute one's vision. They will demonstrate the process with some random prompts with the class, as well as show how said process yields a pile of pictures, preliminary drawings, personal insights, and finally a painting. (Demonstration/lecture – notes recommended)
Building on Buildings: (introductory~intermediate)
Join H. L. Crawford to see how they've started to learn how to add architecture to their art. First following along some examples of their process and types of architecture; to how to develop a rudimentary fluency with seeing what one likes about one's own found references as to be able to apply these details oneself. Initially the class will be lecture-based to communicate the theory of the practice, then the class will have an opportunity to get practical experience on newsprint that's provided (or one's own brought material) with some guided assistance from the artist. (Practical demonstration and practice ~ notes recommended)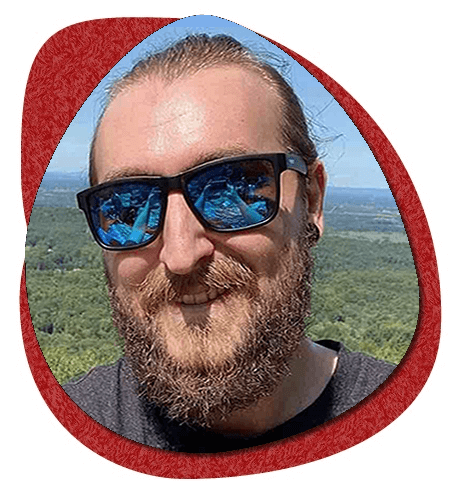 Zack Thayer
Selling Your Art, Better!
An open forum-style workshop designed to provide recommendations to artists looking to maximize their art sales. We'll focus on sales strategies, portfolio customization, and changing thought patterns behind the creation/sales process. Artists will be taught creative ways to market their art, as well as how to attract new customers through merchandising strategies and product positioning. 1 hour, questions encouraged!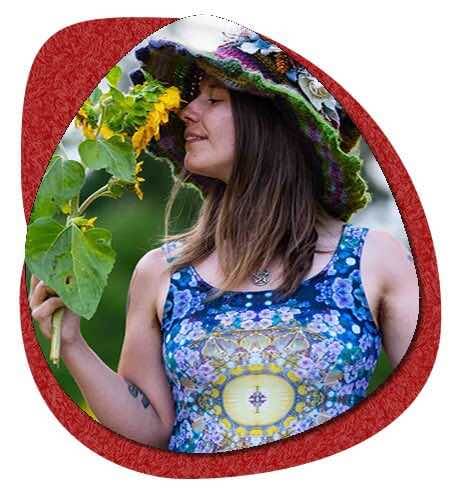 Lacey Vilandry
Divination and Painting
This is an all-skills-welcome workshop where we learn a process of divination with painting. Setting an intention or asking a question, we start off with chaotic, abstract forms, then work towards pulling order in the chaos. It is a process of introspection and meditation, and an excellent tool for recovering from artist block.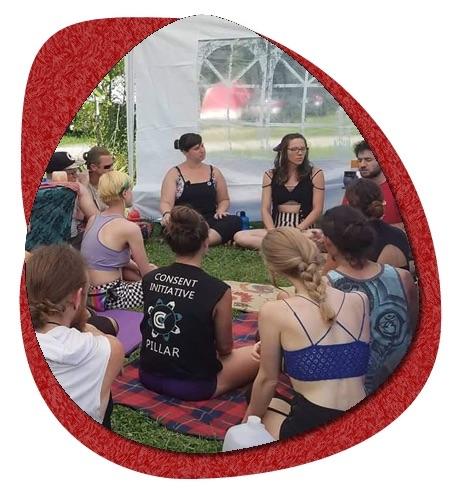 Gina McGrath
Creating Consent Culture in Community
In this course, we will discuss the important aspects to consider when creating consent culture in your community. We will also dive into the more nuanced and/or unspoken impact of creating consent culture, and how to be prepared in order to be sustainable. There will be plenty of opportunities to ask questions in this course, so bring your queries and thinking caps!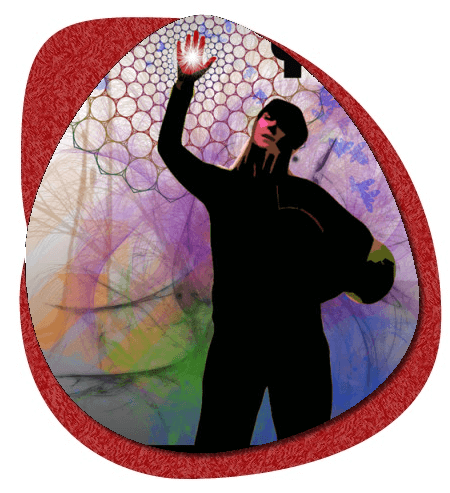 Lori McKinney
Create Your State
This workshop will explore art and music as tools for community transformation. Learn from the inspiring story of Princeton, West Virginia through the eyes of artists and cultural entrepreneurs Lori McKinney and Robert Blankenship of The RiffRaff Arts Collective. Discover and tap in to resources to help you on your journey to make an impact; explore how the arts, creativity and an out-of-the-box approach can establish a creative scene that redefines and re-awakens a community. Tune into your passion, trust your vision, and activate.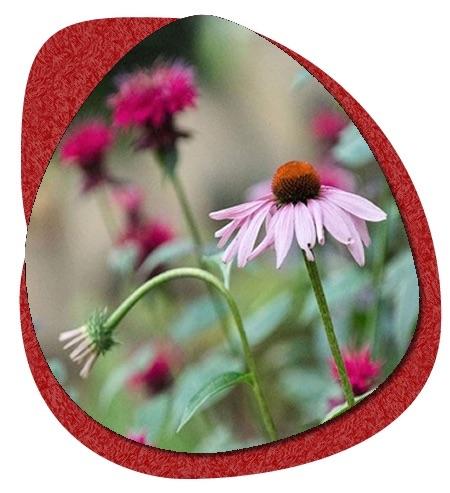 Tony Petrarca
Impact Your Habitat
Learn to shape your environment with living forms. We'll discuss addressing community and land needs, how to evaluate a planting site, and the process of beneficial plant selection. Topics will also include local plant propagation and habitat destruction.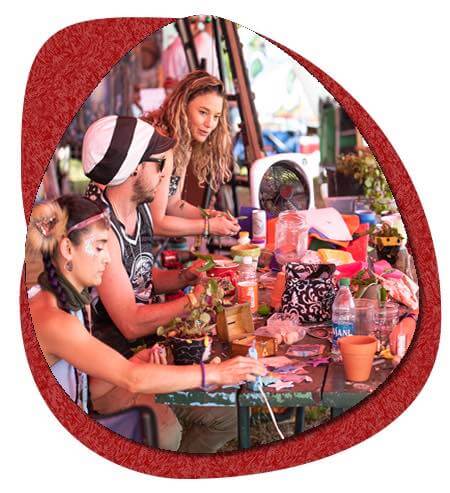 Leslie Caneda
The Plant Party
Learn how to propagate your plants, decorate a pot, and transform thrifted ceramic finds into planters! Participants are encouraged to scavenge their local thrift store and bring quirky ceramic treasures to MMF and, and adopt a plant!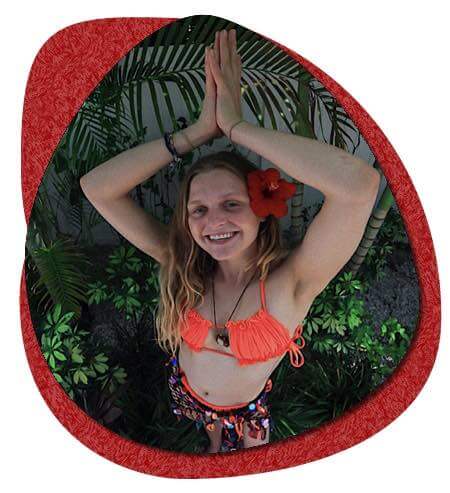 Kens Flow
Sound & Movement Medicine for Mindfulness
The yoga class your brain & body have been asking for! An anatomically aligned, authentic practice that will anchor you in the peace of the present moment through a combination of breath-work, sound healing, and movement medicine known for centuries to regulate the nervous system. Beginner-friendly & accessible for everybody to feel the transformative magic of flow, you'll emerge renewed in the mind, body, and soul!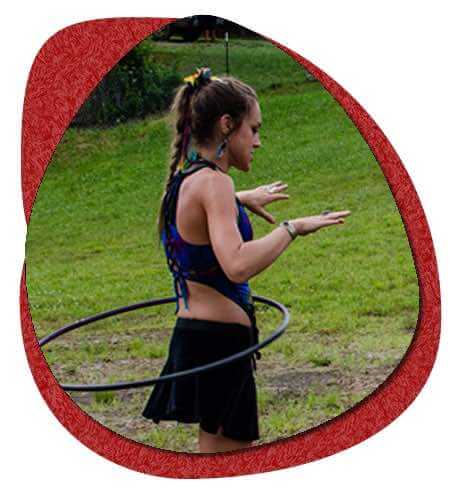 Sami Hoopslip
Beginner Hula Hoop Workshop
We will start with getting the feel of your hoop, testing out different sizes, getting it to go around the body and finding that sweet spot that keeps the movement going. Adding arms into the mix, we will work on basic isolations, escalators, and keeping the hoop level. Always ending with the importance of incorporating dance and not forgetting to have fun! This workshop can start from learning how to hula hoop to getting some tricks down your sleeve depending on the participants. We suggest bringing your own hula hoop/s or Sami will also have some for use!
Intermediate Hoop Dance Workshop
Starting with basic hula hoop dance skills and get everyone warmed up. Some intermediate moves we can work on are isolation variations such as iso pops, ghosting with linear and vertical tracers; behind the back and infinity tosses; on body vortex into pizza toss. Ending with some chest rolls and stalls, and always, a freestyle cool down! We suggest bringing your own hula hoop/s or Sami will also have some for use!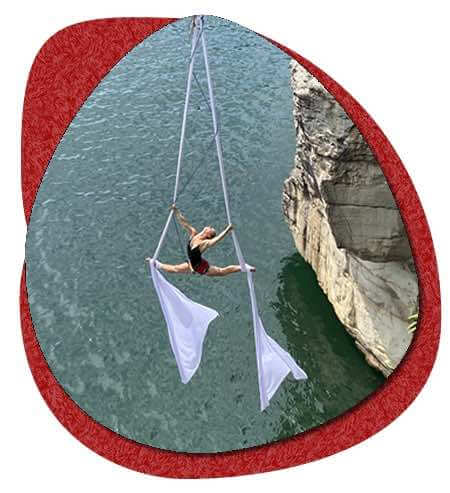 Aranea
Foundations of Aerial Silks: Footlocks, pinches, and poses!
The workshop will be 1.5-2 hours long and will be structured around a 15-minute, active stretching warmup, a 5-minute demonstration, a 40-50 minute 'how to' session focused on understanding a basic foot lock, a basic pinch, and various static poses from a lock or a pinch. The remaining time will allow for wiggle room during the 'how to' session, depending on the number of people. The last 15 minutes will be for questions and ideas about how folks can get started with their own aerial practice! The workshop is geared towards those who have never done silks, but I would be happy to have more advanced students participate and workshop various static poses with them. I will not be teaching dynamic skills in this workshop. In the 'how' to session, we will work on foot locks from the ground. Once the participant can tie a footlock on both feet from the ground, we will start with poses, of which there are plenty to choose from! This will be a good photo opportunity for participants as well. After foot lock poses have been mastered, participants can either choose to work on another pose from a foot lock, or they can move on to pinches the foundation skill for either basic climbs or Russian climbs.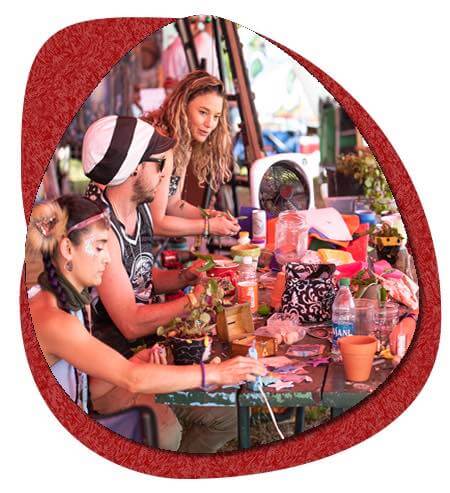 Get the Full Schedule
Check out the full schedule for these free workshops happening Thursday, Friday & Saturday during Mountain Music Festival.