We are super excited to release the Mountain Music Festival 2022 official poster art! Created by visual artist Brian Zickafoose this piece highlights the 30+ bands scheduled to rock ACE Adventure Resort on June 2-4, 2022. This year's poster art has to be the best ever produced by Zickafoose. Creatures of the Night was inspired by festival life after dark and highlights the New River Gorge National Park. Brian Zickafoose is an award-winning artist and continues to impress us with his talents on these projects. Make plans to be on the mountain and experience festival life, music and art with us this summer at MMFest.
.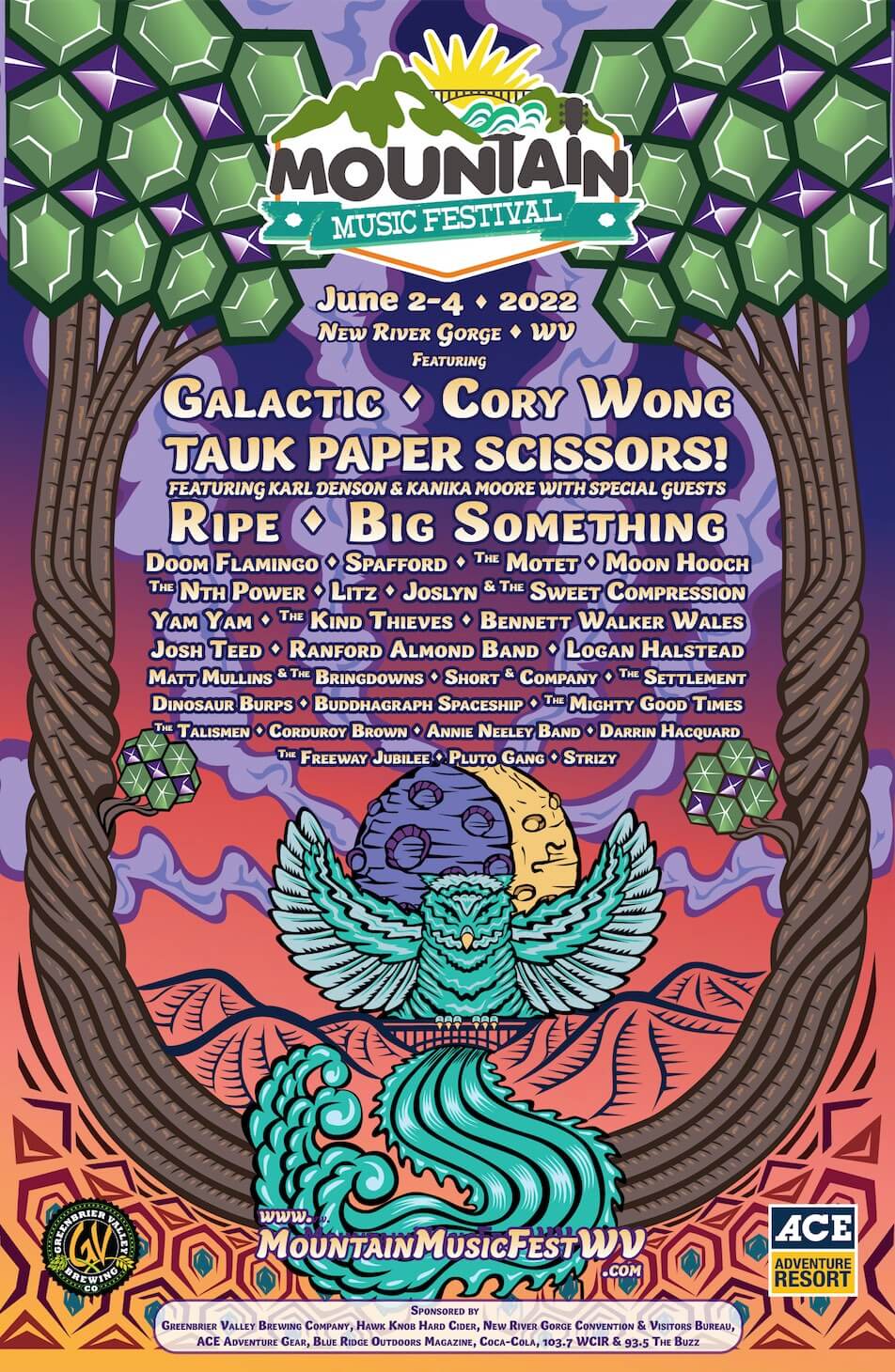 Creatures of the Night
The theme for this year's poster art was inspired by creatures of the night since festival life flourishes after dark. Like the owl emerging from its nest under the pale moon, festival-goers emerge from their hammocks and campsites at dusk hungry to taste the bounty of the night. Body-paint and glow sticks alight, happy campers file stage-front in droves to bask in the lights, sights, sounds, and magic of the moment.
Epic musical jams on stage, fire spinners and performance artists flow in the shadows, live-painters render beautiful masterpieces, the camaraderie and fellowship of friends old and new; these ingredients combine to create a savory and blissful sauce. Few things compare to the splendor of Mountain Music Festival after dark. But don't sleep on it because there are numerous daytime activities at MMFest that you won't want to miss, such as zip-lines, disc-golf, rafting, biking, hiking, an amazing waterpark and endless adventures make it possible to have a blast regardless of the time of day.
We sincerely hope you enjoy the art and we hope to see your beautiful faces on the mountain this June!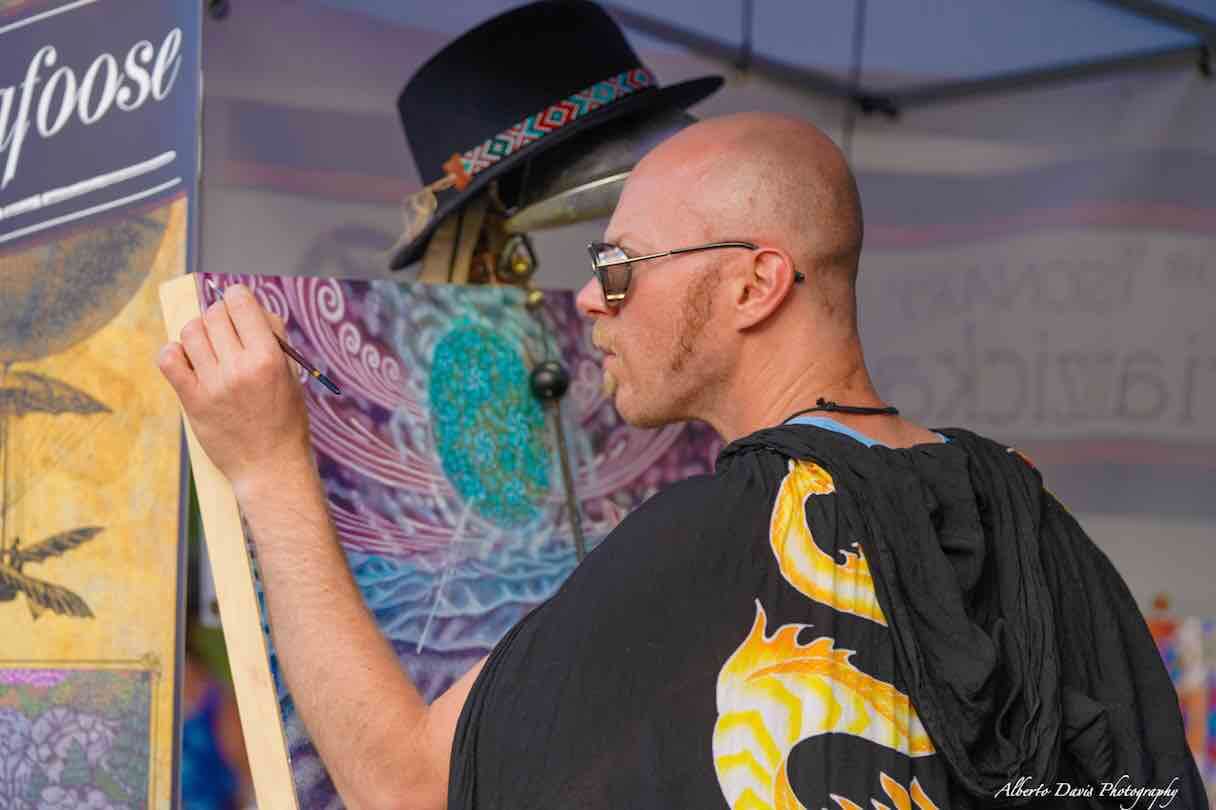 The Art of Brian Zickafoose
Brian Zickafoose has been the artist behind the Mountain Music Festival posters since 2018. His work intertwines elements of nature with geometric patterns and symmetry, illuminating the beauty of life in all its forms. Brian's creations are meant to be tools for expanding consciousness and tapping portals to the infinite possibilities of existence.
Born in 1976 in Summersville, West Virginia and growing up on a country farm to deeply religious folk, nature and spirituality have been consistent threads in the glorious tapestry of his life. He studied art at Pasadena City College under renowned printmaker Michael Barnes and was mentored by the late artist David E. Weaver in the oil painting tradition of the great Flemish masters and also studied visionary painting under Alex Grey and Allyson Grey. Borrowing from these time-tested disciplines, Brian has forged a contemporary visionary style that is unique to his own subjective experiences and world view. He says art is his religion, driven by LOVE!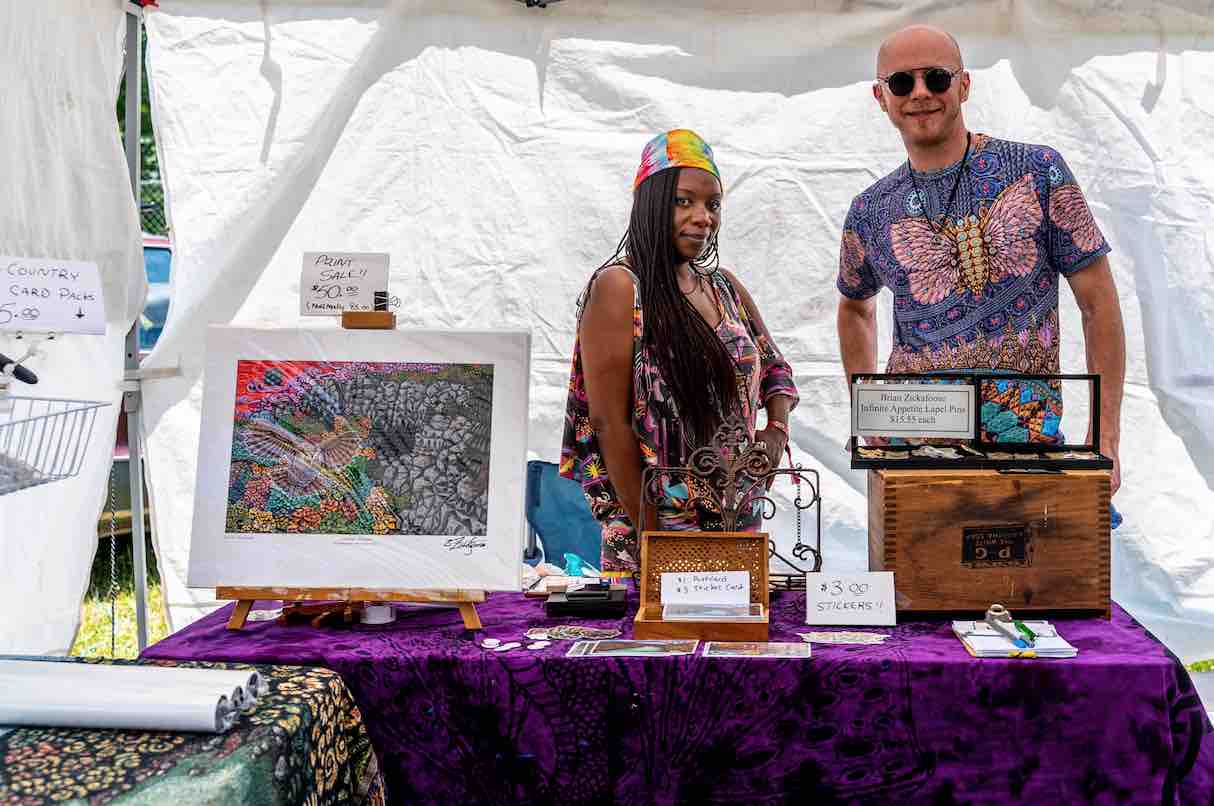 Happy Mountain
Tickets are on sale now for Mountain Music Festival happening June 2nd – 4th at ACE Adventure Resort. Early bird ticket deals are still available through Monday, January 31st so get yours now and save $30 off advance pricing. Three nights, three stages and over 30 bands including Galactic, Cory Wong, TAUK PAPER SCISSORS!, Ripe, Big Something, Doom Flamingo, Spafford and more. Plus our talented team of visual artists, dance performers, fire spinners, vendors and more will all be ready to kickoff summer with a bang. See you in June!