There is so much to do and see at Mountain Music Festival aside from the kick ass 25+ bands playing throughout the weekend. Get ready to learn something new, have some fun and pick up new skills with our free workshops happening throughout the weekend at ACE Adventure Resort. The Pigment Sanctuary Art Tent on mountaintop will be the workshop hub for most the weekend along with the waterpark Saturday afternoon. Show up and take part in free classes ranging from art, flow, yoga, plants, pottery and more!

Folks with 4-Day passes will have some bonus workshops free to attend Friday morning including Zack Thayer giving a breakdown on how to sell your art better. This workshop is something every artist and vendor at MMFest will want to attend just before the bulk of the weekend's attendees arrive around noon. . A large focus of Zack's workshop will focus on sales strategies, portfolio customization, and changing thought patterns behind the creation process.

Kicking off a solid afternoon of fun in the Pigment Sanctuary Art Tent will be Matt Way with a kids coloring workshop for your mini me's in attendance. Journey through the forest with Tara Caldwell and learn about plant allies and survival skills before stretching out your muscles with Candace Evans' Yoga session both days. There will also be chances to work on your flow and balance with hooping workshops and an intro to indo boarding class on the mountaintop.
There are a ton of workshops to choose from Saturday, so many that we needed two workshop spaces. Catch your favorite class in the Pigment Sanctuary Art tent or at the waterpark workshop meeting space next to the waterpark entrance. Remember hacky sack? It's back and artist Steven Polizzi will be teaching the basic kicks, and then showing you proper technique for beginning freestyle. Hooping workshops are happening throughout the day with Sara Smith and Kyrstin Proctor. Ahlee Dawson will be rocking at the waterpark with the Indo Board Corner setup all afternoon. Just pop in get your chance to free play, learn new skills, incorporate props and get coaching from Ahlee.

Greenbrier Valley Brewing Company will be keeping West Virginia's best craft beer flowing all weekend and you get a chance to meet the brewers Saturday afternoon at The Lost Paddle. Brian Reymiller and Dave Barron will be tapping a keg of the rare and elusive barrel aged maple bourbon porter to share with festival goers. Plus they will be chatting about their favorite brews including Devil Anse IPA, Mothman Black IPA, Bat Boy Black Lager and more. Stop in to see them and learn a bit about brewing.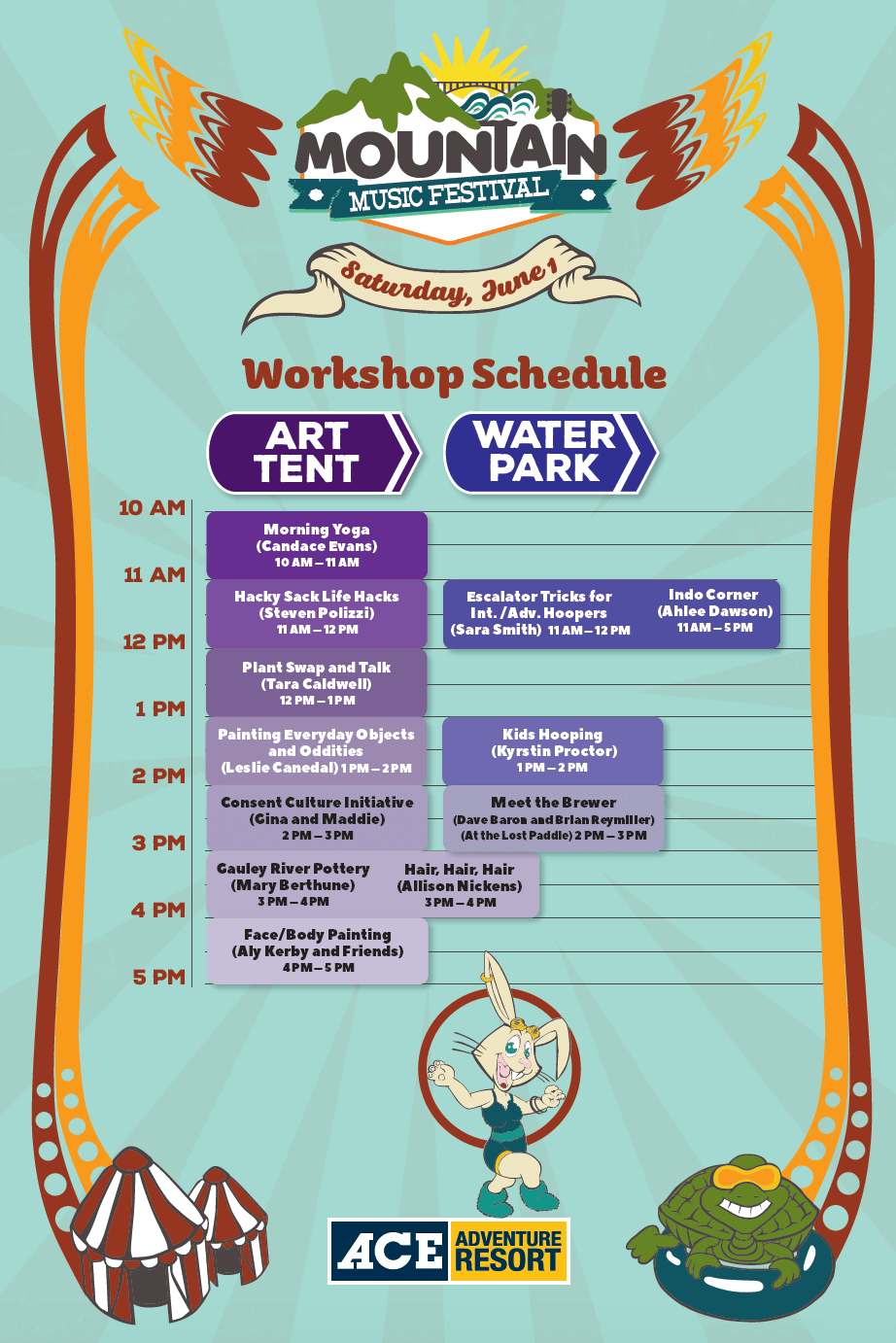 Weekend passes and single day tickets are still available. All these free workshops are included with your ticket to Mountain Music Festival May 30th – June 2nd. Check out the weekend workshop schedules to see all the classes being offered. ACE Adventure Resort is fired up to be bringing Tyler Childers, The Floozies, Big Something and over 25 bands to the New River Gorge. Get your tickets now because MMFest is less than one month away and we will all be dancing on the mountaintop together!