Mountain Music Festival at ACE Adventure Resort is the ONLY music festival where you can experience whitewater rafting by day and your favorite music by night. MMFest takes place in the heart of the New River Gorge, WV, which is a worldwide whitewater destination, so when in Rome… Each year thousands of people set off to journey down this gorgeous river canyon. There are also thousands of reasons why you should include a river trip alongside your festival vacation; here are the top 5 reasons why.
An Amazing Place To Raft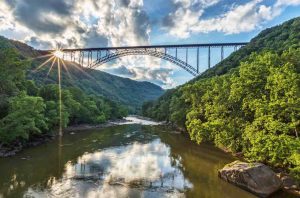 West Virginia is almost heaven and it only takes one look at our incredible mountain views to understand why. Some of the states most iconic scenery and landscapes are found right here in the New River Gorge. The river itself is a twisting rocky maze full of giant boulders, chutes, and rolling waves. Floating down this ancient river you will be treated to spectacular views of the cliff-lined gorge as falcons soar high above. Wrapping up the river trip underneath the famous New River Gorge Bridge you are treated to views of this massive structure towering 876 above you. Let the beauty of this National River bring joy to your soul.
The Guides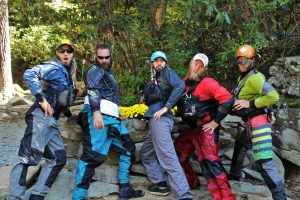 Are you looking for a little more entertainment on your outdoor adventures? Look no further than the back of your boat and make some conversation with that colorful person coaching you down the river. ACE's guides are the best in the world when it comes to maneuvering a raft through boulder gardens and teaching folks how to paddle. They are also friendly, energetic, lively folks who might have you laughing so hard your stomach hurts. From exciting stories of past river experiences, insights on the geology and wildlife, to history stories of the coal camps that filled the gorge these characters can tell you anything you want to know. Be sure to make friends with your guide and get all the MMFest insider tips.
Escape the Summer Heat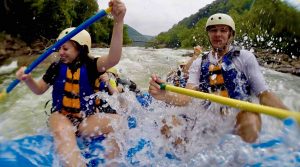 By early June you can feel the summertime heat and what better way to cool off than splashing around in the river with friends. You will get wet on this ride as you navigate your way through rollercoaster waves and steep drops on the Lower New River. The river is pool drop so after each rapid you will float across a calm pool where you can relax and take a dip if you'd like. You will even have the opportunity to jump out of the raft and swim a small rapid. Swimming whitewater can be a lot of fun and is very similar to bouncing around in a wave pool at a waterpark. The river water is relatively warm too with its headwaters south in North Carolina and flowing hundreds of miles allowing it to be warmed by the sun. Most rafters are pleasantly surprised the water is not cold.
Make New Friends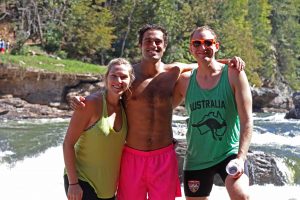 Get ready to meet your extended whitewater family as you climb on the bus to the river. You might be looking at 40 strangers but in just a few short hours you will all be great friends. Whitewater rafting is definitely a team sport and if you and your buddies can get into a rhythm you a guaranteed to have a great ride! It's funny how paddling together to accomplish the task of getting down the river brings people together.
Feel The Adrenaline Rush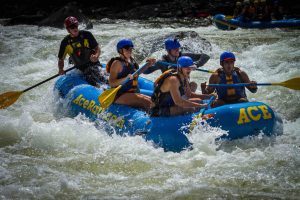 The thrill of navigating big whitewater will certainly get your blood pumping and heighten all of your senses. It's great to step outside your comfort zone and experience new things you don't typically do in your day to day. Stepping outside your comfort zone will cause your brain to release chemicals such as adrenaline making you focus on the task at hand. This focused mindset will make you give you a major sense of accomplishment at the end of your trip boosting self-esteem and making your brain happy. With this happy brain you will be reenergized and ready to party under the stars all night with your friends.
Get Your Tickets
After you get back to the campground enjoy the FREE showers to rinse off and get ready for a night of dancing. This May 31st – June 2nd jam on with TWO NIGHTS of Umphrey's McGee and Big Something plus over 20 other bands covering four stages. Tickets are on sale now and VIP packages including whitewater rafting adventures are available. Start making plans to be at Wild & Wonderful West Virginia's best music festival this summer.