Last updated: January 3, 2019
Please read these Terms of Use ("Terms", "Terms of Use") carefully before using the https://mountainmusicfestwv.com website (the "Service") operated by Mountain Music Festival ("us", "we", or "our").
Your access to and use of the Service is conditioned on your acceptance of and compliance with these Terms. These Terms apply to all visitors, users and others who access or use the Service.
By accessing or using the Service you agree to be bound by these Terms, and out Privacy Policy. If you disagree with any part of the terms then you may not access the Service.
INTELLECTUAL PROPERTY
The Service and its original content, features and functionality are and will remain the exclusive property of Mountain Music Festival and its licensors.
LINKS TO OTHER WEB SITES
Our Service may contain links to third-party web sites or services that are not owned or controlled by Mountain Music Festival.
Mountain Music Festival has no control over, and assumes no responsibility for, the content, privacy policies, or practices of any third party web sites or services. You further acknowledge and agree that Mountain Music Festival shall not be responsible or liable, directly or indirectly, for any damage or loss caused or alleged to be caused by or in connection with use of or reliance on any such content, goods or services available on or through any such web sites or services.
We strongly advise you to read the terms and conditions and privacy policies of any third-party web sites or services that you visit.
TERMINATION
We may terminate or suspend access to our Service immediately, without prior notice or liability, for any reason whatsoever, including without limitation if you breach the Terms.
All provisions of the Terms which by their nature should survive termination shall survive termination, including, without limitation, ownership provisions, warranty disclaimers, indemnity and limitations of liability.
DISCLAIMER
Your use of the Service is at your sole risk. The Service is provided on an "AS IS" and "AS AVAILABLE" basis. The Service is provided without warranties of any kind, whether express or implied, including, but not limited to, implied warranties of merchantability, fitness for a particular purpose, non-infringement or course of performance.
GOVERNING LAW
These Terms shall be governed and construed in accordance with the laws of United States without regard to its conflict of law provisions.
Our failure to enforce any right or provision of these Terms will not be considered a waiver of those rights. If any provision of these Terms is held to be invalid or unenforceable by a court, the remaining provisions of these Terms will remain in effect. These Terms constitute the entire agreement between us regarding our Service, and supersede and replace any prior agreements we might have between us regarding the Service.
CHANGES
We reserve the right, at our sole discretion, to modify or replace these Terms at any time. If a revision is material we will try to provide at least 60 days notice prior to any new terms taking effect. What constitutes a material change will be determined at our sole discretion.
By continuing to access or use our Service after those revisions become effective, you agree to be bound by the revised terms. If you do not agree to the new terms, please stop using the Service.
CONTACT US
If you have any questions about these Terms, please contact us.
Got Questions? We've Got Answers!
Grounds
The festival takes place on natural, flat grounds. No cement walkways or otherwise have been added. Most areas are maneuverable by wheelchairs or other motorized vehicles.
Camping
There is no designated accessible camping area as all areas are accessible. It is up to each patron to decide whether a certain area is more difficult to access than others.
Parking
Accessible parking is available, as long as the car being used holds a handicap parking pass. When you arrive at the festival, ask for accessible parking and you will be properly directed.
Accessible Bathrooms
Accessible bathrooms and showers can be found at the main gate area inside the festival grounds. You will find location information on the map once you arrive on site.
Service Animals
Patrons with service animals must check in with the Welcome Center. Only animals with a service animal tag will be allowed on site. If at any time the animal is out of control, puts patrons at risk, is uncontrollably loud, acts as a threat to other patrons, or is abandoned by owner and left alone in the park or car, our staff has the right to request that your animal be removed from the grounds.
Motorized Vehicles / Mobility Devices
Motorized wheelchairs and scooters with three plus wheels are allowed to be used by patrons with disabilities. No golf carts, 2 wheel scooters, or other motorized vehicles may be used. All mobility devices should be operated no faster than walking speed.
On-Site Help / Accessibility Center
If at any time, while on site, you have more questions, need assistance or just want to say hi, swing by the Welcome Center for more information. Our staff is there to help!
Questions
For any questions, or if you can't find what you need here, please email [email protected]
Festival Rules
"The Golden Rule": Please be respectful to your neighbors & consider their comfort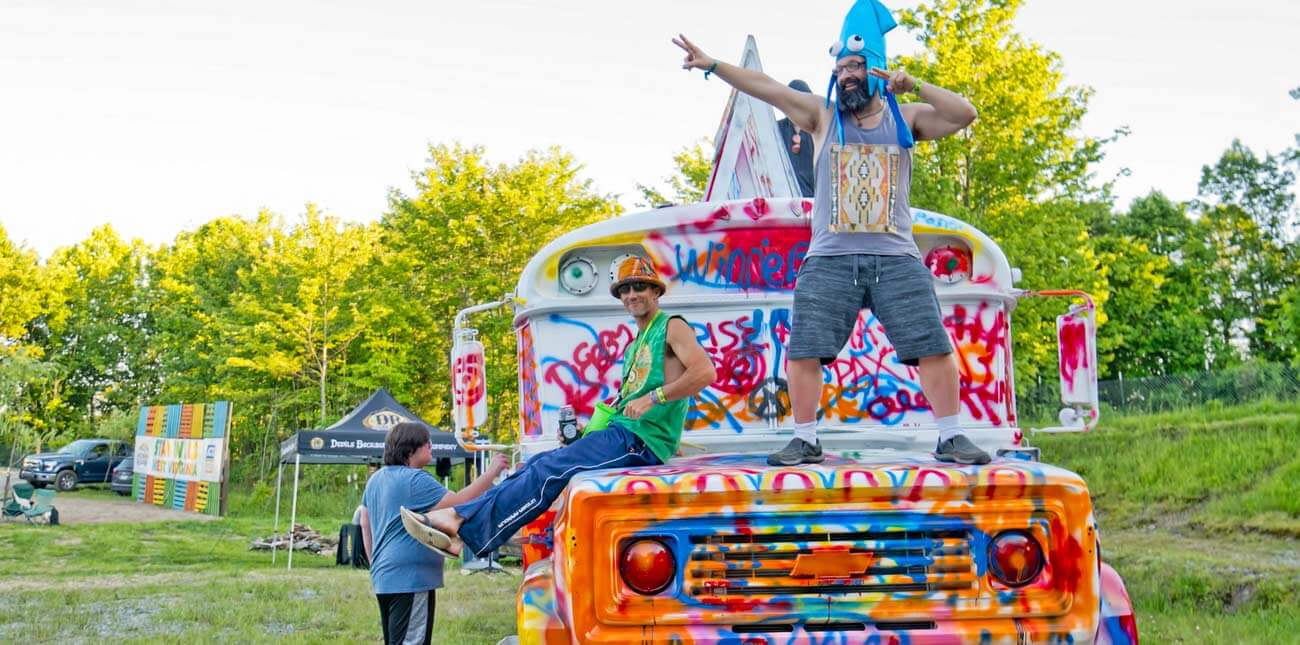 Rules for The Mountain Top
Have fun & love life
No Pets inside the festival grounds
No Glass Bottles
No outside food or drink inside the festival grounds – NO OUTSIDE Alcohol
No Illegal drugs, weapons, fireworks or Nitrous Tanks are allowed on resort property
No unauthorized vending permitted
Underage drinking is strictly prohibited
No bicycles in the festival grounds.
Respect the environment. Please use trash and recycling container.
Park only in designated areas. If your vehicle is found in an unauthorized area it will be towed to the onsite tow lot and a fee will be assessed.
Please be prepared for a bag search at the main ticket gate.
Listen to and be respectful to all staff members, whether it is a parking attendant or a police officer.
Remember our #1 goal is everyone's safety.