LETTUCE is (a) the prime ingredient in a salad, (b) a slang for cash, (c) a green herb that can be smoked, (d) a genre-busting six-member funk/jazz/soul/jam/psychedelic/hip-hop/art-rock/ambient/ avant-garde/experimental collective formed in 1992 by four alumni of the prestigious Berklee College Of Music, or (e) all of the above.


If you answered "e," then you're on to the ever-changing musical palette and all-inclusive goals of LETTUCE's sixth studio album, Elevate, and its ongoing re-interpretation of the band's name as "Let Us."  In their earliest days as students, they would roam the cities of the Northeast, and implore others to "Let Us play."  Starting with their 2002 debut album, the phrase has been affixed to their first four albums, as in (Let Us) Outta Here (2002), (Let Us) Rage! (2008), (Let Us) Fly! (2012) and (Let Us) Crush (2015). Elevate (2019) is the band's first studio album since 2016's Mt. Crushmore and the follow-up to its 2017 live effort, Witches Stew.


Recorded at Colorado Sound outside of Denver, near the home of New York transplants and band co-founders, guitarist Adam "Shmeeans" Smirnoff and percussionist Adam Deitch, with legendary engineer Russ Elevado (D'Angelo, The Roots, Erykah Badu), Elevate shows LETTUCE touching on its past while moving full force into the future. The band explores its funk roots in the Tower of Power like punch of "Ready to Live" (the cover of a song by Cold Blood's Lydia Pense), the Prince-like swagger of "Royal Highness" and the OG blues-soul of "Love Is Too Strong," while expanded trip-hop sounds of the space age audio-scapes like "Trapezoid," "Gang 10" and "Purple Cabbage" show the influence of sax player Ryan Zoidis' Korg X-911 synths and Nigel Hall's Rhodes keyboards.


"This album definitely stretches the boundaries," says chief composer/percussionist Deitch, whose chance meeting with co-founder "Shmeeans" while 16-year-olds at a summer camp before their freshmen year of college proved momentous. "The idea was to keep exploring the different areas of funk and hip-hop beats, then writing melodies to those songs that made sense."


The more progressive/spacey vibe, with elements of Pink Floyd, the Grateful Dead, Eno and Miles Davis, also comes naturally to the band, according to founding member and bassist Erick "Jesus" Coomes, an Orange County native whose father, Tommy Coomes, is a successful musician with a number of albums to his credit.
"We're big improvisational music and arts fans," Erick says. "We consider them part of the same world. It's like painting live with five other people, one arm and a single brush."


Guitarist Shmeeans compares the group's eclectic, free-wheeling approach to "the modern NBA and its position-less basketball," Nigel Hall, the band's resident singer, also takes vocals on the album's two covers, Tears for Fears' "Everybody Wants to Rule the World" (one of the album's two focus tracks, along with "Krewe") and Lydia Pense's "Ready to Live." "As long as you listen, play your part and remember where the 'one' is, you can thrive in this band," says Nigel.
Trumpet and horn-player Eric "Benny" Bloom, a Rhode Island native who has been a full-time member of LETTUCE since 2011, notes, "This isn't just a funk band anymore. We're playing every style of music in every song. You can't categorize it.  We have the freedom to do whatever we want that's appropriate for the song."


Much of the futuristic, yet warm and analog feel, of Elevate can be attributed to sax player, Portland, ME native and co-founding member Ryan Zoidis, who continued to explore the limits of his new toy, a vintage Korg X-911 synth.


"I was still figuring it out on the last album, trouble-shooting how it would work," says Ryan. "It's responsible not just for the ways the band has changed musically, but it's improved my life in general.  It's great to have have a lot more options with my sound rather than just relying on the one standard timbre of the dry saxophone. There are now a bunch of different voices I can pull up." He points to "Trapezoid" as a piece for which he recorded himself playing the synth over a click track and then sent to Deitch, who turned it into the song on the album.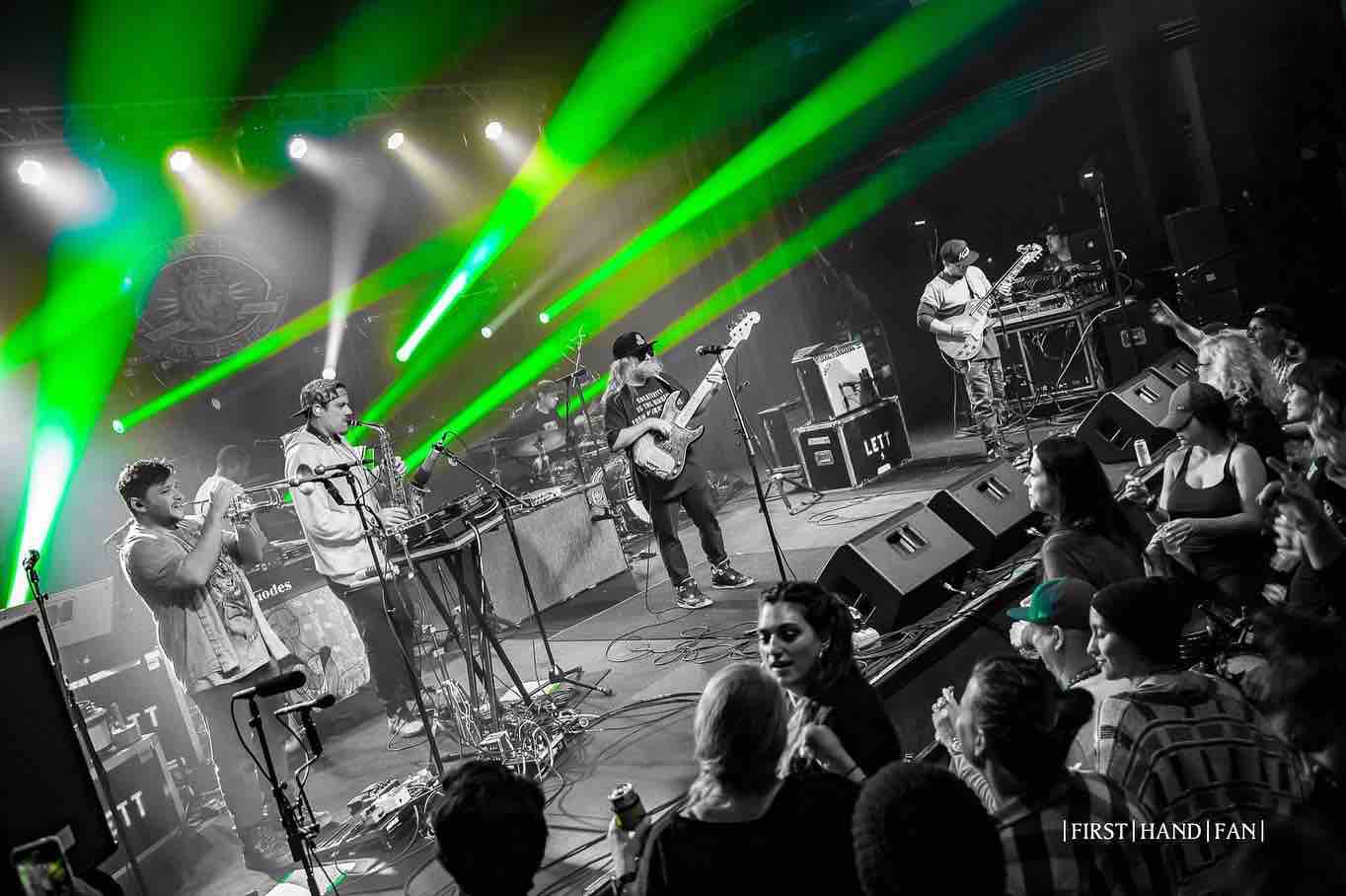 Other album highlights include Smirnoff's nod to Carlos Santana and Trey Anastasio on the Latin-flavored and playfully named "Shmink Dabby," the spaghetti western meets '60s Ethiopian funk by way of the French Ethiopiques compilation albums in the focus track, "Krewe" and the Marcus King cameo vocal on the B.B. King/Al Green gospel blues of "Love Is Too Strong."  The latter is reminiscent of other guest appearances in the past by the likes of John Scofield and Fred Wesley on LETTUCE's debut, Outta Here, or Dwele on Rage!


"There's always something new to be learned as musicians and as people," adds Shmeeans. "We're trying to get a little bit better every day."


Says Ryan: "We realize more and more that this band is a gift we've been given. Everyone contributes, like a successful sports team. We've really become family over the years.  We've known there was magic in this from the moment we first got together as 16-year-olds."
That magic continues to grow with the band's new album, a democratic ensemble in which there is no leader, but a complete unit that functions as a single entity, with plenty of moving parts.


All together now… Let us Elevate.