Setting off on a summer road trip with friends is always a ton of fun. Hopefully you are planning one epic road trip to Mountain Music Festival at ACE Adventure Resort in just a week. Before you hit the road make sure you have everything in order like your MMFest playlists, snacks, co-pilots, and everything for the weekend. Check out the festival packing list so you don't forget anything important. Once you get to the mountain you are in for two nights of Umphrey's McGee & Big Something plus 25 bands on 4 stages.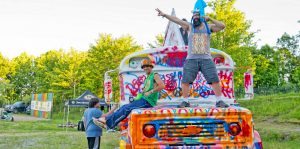 Get a playlist
Get amped up for all the great music you are in for over the weekend by jamming out the whole way to the show! There are some great ways to keep the tunes going for the entire trip. Pandora is a great option since you can just select an artist and roll. Spotify works the same way but you can get more specific here and find the exact song you are longing to hear. Checkout this great MMFest2018 playlist one of our superfans put together. Filled with Umphrey's McGee, Big Something, Perpetual Groove and more you will be ready for the live experience once you arrive.
Stock Up on Snacks & Treats
A great way to save money is by planning ahead and packing snacks for the drive. This will also cut down your total trip time since you can eat in the car vs. stopping at restaurants. This is a great way to eat healthy by munching on trail mix and veggie wraps instead of gas station hot dogs and fast food. Stay hydrated and well fed on your journey to the mountain and you will be rewarded with cold beer from the Greenbrier Valley Brewing Company.

Take a break and See Something Cool
Plan a pit stop and check out some of the fun West Virginia roadside attractions on your way to Mountain Music Festival. If you're coming from the Pittsburgh area or points north you can always swing through Morgantown and grab a great lunch at Black Bear Burrito or Morgantown Brewing Company. Just a bit south in Weston is the massive Trans Allegheny Lunatic Asylum where you can take historical and paranormal tours of this former mental health hospital. Folks coming in from Ohio should check out the West Virginia state capital in Charleston. The state capital also has tasty food at Pies & Pints on Capital Street downtown. Swing through Capital Market and stock up on some goodies for your campsite. Checkout everything West Virginia has to offer and see something wild and wonderful.
Bring Friends – Share the Wheel Time
There are always tons of great people who come to the mountaintop and we want you to bring more!! Tell all of your friends, load up the car, and head for MMFest this summer. This year you can upgrade to car camping and it is only $49 per vehicle for the entire weekend so carpooling will save you money. Plus you can jam out and laugh with your besties on West Virginia's country roads.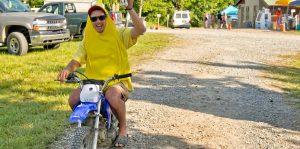 Watch Your Speed
Be sure to take your time getting to the mountaintop, be safe, and watch your speed. Especially watch the speed limit as you make that last part of your journey on US Highway 19. Many of the local municipalities in Summersville, Beckley, Fayetteville, Mt. Hope, and Oak Hill setup speed traps on this highway as the speed limit can change from 65 mph to 50 mph and back again. Just follow the rules of the road and you should have no problem arriving safely and ticket free.
See You on the Mountain
You can find directions to ACE Adventure Resort in Oak Hill, WV online and we strongly recommend you use these directions we provide. Ever seen Wrong Turn? Don't trust that GPS as it might take you down some interesting "mountain" roads that won't get you anywhere near Mountain Music Festival. Advance tickets are still available and you will save money getting your tickets before the show. Remember all weekend passes come waterpark passes for the Saturday beach party. It won't be long and you will be in the highway headed to Mountain Music Festival May 31st – June 2nd.