There is TONS of stuff to do at Mountain Music Festival on May 31st – June 2nd from whitewater rafting to 25 bands to the waterpark and more. You will certainly have to manage your schedule and there still won't be enough time to fit everything in. But don't miss out on the FREE workshops going on all weekend where you can test your balance, express your creativity, or just learn something new. Check out the 2018 workshop schedule coming in hot off the press.
This year our visual artists have moved into a giant circus tent you will see when you first walk into the festival grounds. The Pigment Sanctuary will feature over 25 of the festival scene's best visual artists, painters and sculptures. These super friendly and talented artists are also presenting a number of art workshops where you can express your creativity and sling some paint.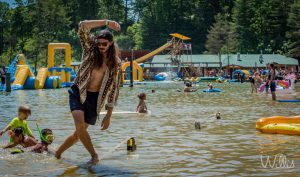 Want to get a little more physical with your workshops? Test your focus and balance with Slack Librium in the slack line park. They will be hosting a number of workshops both Friday and Saturday teaching beginner through advanced slackline courses. Saturday they will be setup at the waterpark all day. Ahlee Dawson will be bringing Indo Board workshops to MMFest this year with a balance playground setup at the waterpark Saturday afternoon too.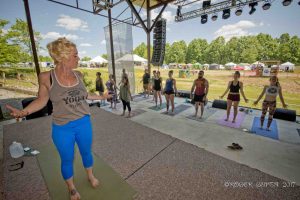 Wake up each morning and stretch out with Yoga workshops in the artist tent. Local Yoga instructor Candace Evans will teach classes for "every body." She says this yoga class will help you with your fierce dance moves or simply work out those kinks. It will be a fun and playful session that supports harmony and interconnection with mind, body, heart and spirit. It will allow you to be loose and ready to engage MMFest as well as your life whole heartedly. Party on!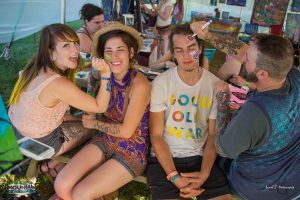 This is just a snapshot into the awesome free workshops happening Friday and Saturday. Be sure to check out the workshop schedule and join in on these fun experiences. Plus there are plenty of adventure activities to be found at ACE Adventure Resort like whitewater rafting on the Lower New River Gorge or you can fly across the rim of the gorge on the nine zip lines. Mountain Music Festival is the adventure music festival of the summer May 31st – June 2nd. Advance tickets are on sale now and the 5th year of West Virginia's best music festival is going to be one to remember with TWO NIGHTS of Umphrey's McGee and Big Something. See you on the mountain!