Mountain Music Festival is three glorious days in the heart of the New River Gorge, WV you won't want to miss this summer. It's more than a festival and better than a vacation. Heck, it's a Vacation Festival. We have over 25 bands lined up to play on four different stages including two nights of Umphrey's McGee and Big Something on the mountaintop. ACE Adventure Resort knows how to have fun and there is no shortage of things to do at the 1,500-acre outdoor playground. We put together our top 5 favorite parts of MMFest you might overlook if we hadn't told you!
Wonderland Waterpark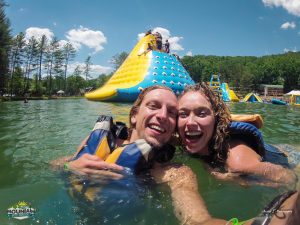 Splash around and play in this 5-acre lake filled with inflatable toys, trampolines, waterslides, a blob, and even a zip line into the water. This is the ultimate place to cool off and catch some sunshine on the white sandy beaches. Saturday afternoon features the Beach Party with tunes from the Greenbrier Valley Brewing Company Lake Stage. No other festival in the world puts on a party quite like this one! Plus every weekend festival pass includes access to this aqua-playground.
Tito's Strange Stage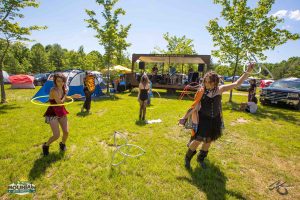 Wake up in the campground each morning with music from the Tito's Strange Stage. Definitely be sure and wander over here to catch a morning time Americana set with some of the best coffee you can find. Strange Coffee Company is setup right next to this stage and they will be happy to keep you caffeinated through the weekend. Check out their nitro coffee if you need that extra kick! This is also where the party keeps going each night after the main stage shuts down with late night sets from The M.F.B. and Opposite Box. Let's get strange!
Concho Overlook
ACE Adventure Resort is situated right on the rim of the spectacular New River Gorge featuring some pretty amazing views of West Virginia's mountainous landscape. If you want to check out the best overlook in town then head out to Concho and experience the gorge view of the river bending 180 degrees in front of you as the cliff drops away some 800 feet to the water below. The ghost town of Thurmond can also be seen from this rocky perch and looks like a toy train set as CSX trains navigate the tracks through the gorge. To get to Concho enjoy a 1-mile hike (one-way) out the Oather Trail located right near the ACE Welcome sign. You can also drive out to within a few hundred yards of this overlook, just ask us for directions in the Welcome Center.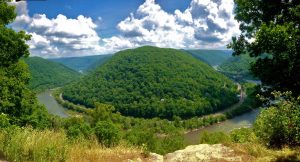 Whitewater Rafting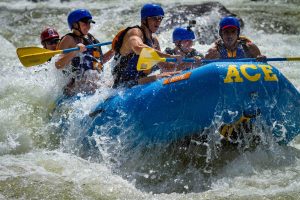 Whitewater Rafting is what ACE has been doing for almost 40 years and you absolutely have to make this adventure part of your vacation festival weekend. The New River Gorge offers incredible whitewater where you will experience big power waves splashing over the front of your boat as your expert guide coaches you on paddling. You will steer your raft through rocky mazes past giant boulders and towering cliffs above. Never been rafting before? That's okay because there is a professional guide in every raft and ACE uses the best equipment in the industry. We even have mellow sections of river for younger kids or less adventurous adults. Check out the VIP packages that include whitewater rafting with your festival passes.
Shuttle Bus Ride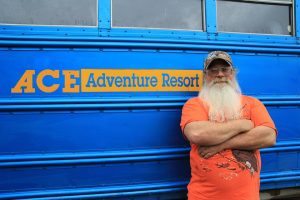 ACE Adventure Resort is pretty big, like you are gonna need a map to get around big! We got transportation around the mountain covered for you with our big blue busses and friendly fun drivers. These shuttles are free and a pretty fun rollercoaster ride on the dirt country roads John Denver was talking about in his iconic song. Use these shuttles to get up and down the mountain instead of driving your car. This will make your like much easier vs. fighting traffic, going through checkpoints, and risking losing your prime parking place. Jump on these buses at designated shuttle stops or just wave em' down on the road, they might stop 😉
A Vacation Festival Like No Other
Mountain Music Festival is truly a summertime music festival like none other you have experienced. From the beautiful mountaintop camping, to the friendly welcoming vibes, and the amazing music all weekend this is the place to be May 31st – June 2nd. Tickets are on sale now and early bird deals are only going to last for a few more weeks. Make your plans tell your boss you won't be at work the first weekend in June because you will be on the mountain!