[edgtf_button size="small" type="" text="View This Year's Poster" custom_class="custom_class="" icon_pack="font_awesome" fa_icon="fa-angle-double-right" link="https://aceraft.com/wp-content/uploads/2018/01/MMF_PosterWeb_NOSponsors.jpg" target="_blank" color="" hover_color="" background_color="" hover_background_color="#005099″ border_color="" hover_border_color="" font_size="" font_weight="" margin=""]
The 5th annual Mountain Music Festival is shaping up to be another incredible weekend of exciting outdoor adventures and mountaintop camping alongside a kick ass soundtrack. Each year we create a show poster highlighting the band lineup. This show poster gets shared with tens of thousands of people via social media sites like Facebook and Instagram plus some 50,000+ handbills and posters are printed and sent out to our street teamers. Going into our fifth year of the event we wanted to create a really special poster so we turned to the super talented West Virginia artist Brian Zickafoose. Brian has attended MMFest in the past as one of our visual artists where his art style jumped off the canvas at us. We wanted to know a little bit more about Brian and his inspiration for the 2018 lineup poster so we got a chance to ask a few questions.
Tell us a little bit about your art background?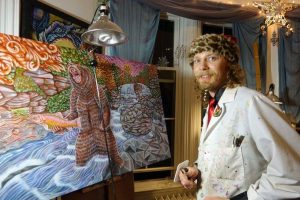 I am a life-long artist. I have been active as a professional graphic artist since 2001 and I began painting in 2004. I was mentored by the late artist David E. Weaver in the oil painting tradition of the old Flemish masters, I studied the ancient principles of Alchemy under David Heskin and Aloria Weaver and I studied Visionary Art painting techniques under masters, Alex and Allyson Grey. I also play guitar and sing so my art has close ties to the music industry. I love to create art for music events and bands and I have had the pleasure to work with the likes of, 311, George Clinton, the Kottonmouth Kings, Floydfest and the Boston Freedom Rally, among others.
Where do you find inspiration for your art?
The Universal Creative Spirit is the greatest source of inspiration for my art. The drive the pushes my paint brush is the love that overflows from my heart. Artists serve the community through their craft and I constantly find inspiration in the beauty of people. I am inspired by the ineffable mysteries of the cosmos. I also find inspiration in nature and all its wonders, sacred geometry, theoretical physics, world religions, ancient mythology and modern conspiracy theories. I tend to lean toward anything weird or obscure. Art for me is a prayer and a meditation so creating art inspires me to create more art. It's a glorious cycle.
We know you have attended MMFest as a visual artist in the past. What do you like about painting live before a crowd at events like MMFest?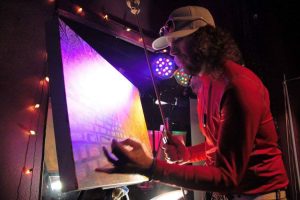 Creating art is typically a solitary act in the privacy of my studio, where as live painting is an entirely social engagement. I love creating art in public because it draws people into my creative space and I get to meet so many interesting art lovers from every walk of life, while doing something that I love. I enjoy bonding with people over art – it's a universal language of love. Live painting pushes me to get out and connect with the community and helps me to find new opportunities and new collectors.
How did you come up with the idea for the 2018 MMFest poster?
I grew up reading Alice in Wonderland. As it turns out, MMFest takes place on Wonderland Mountain so playing on the themes from the story seemed like a natural fit for the poster. Right off, I knew I wanted to mash up the mountains, water and sky into a perspective-bending symmetrical stew that highlights the unique visual features of the New River Gorge. The Mad Rafter was the first character to emerge. After the initial concept draft, we decided to add other storybook characters engaged in adventure activities offered at the festival, such as, zip lining, rafting and the waterpark slide under the Cheshire Cat.
Is there anything you can tell us about the MMFest poster design we might not notice at first glance?
Everything is built on a spiral.
What are you looking forward to at MMFest 2018?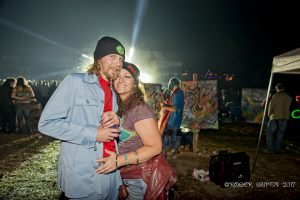 What's not to look forward to? Three-days in the beautiful mountains of West Virginia with an epic soundtrack from 25 amazing bands! I look forward to reconnecting with my Jam-ily and meeting new friends and crazed music fiends! Can't wait to hit the Waterpark beach party with my wife and two daughters. Saturday night dance party with Umphrey's McGee what-what! Shopping for unique gifts from the vendors – oh yeah Christmas in June! I'll be live painting again this year at the Pigment Sanctuary (aka the Art Gallery Tent) so stop by and say, hi!
Well Brian said it… What's not to look forward to? Tickets are on sale now and early bird deals are happening for just a few more weeks. Wanna join our street team and help spread the word with Brian's awesome poster? Fill out the Street Team application and if selected you earn a FREE ticket to the show!