We love kicking the weekend off early Thursday night at The Lost Paddle. The huge outdoor deck overlooking the waterpark is a great spot for a kicking party. This year we will be getting down with Aqueous, The Kind Thieves, and Bennett Wales & The Relief.
Bennett Wales & The Relief
Bennett Wales & the Relief's musical discoveries take flight with a compelling combination of rich pop layers & mixed stylings of rhythm & blues, rock, soul, jam & Americana. By melding hook-filled melody within groove-able rhythms, Bennett Wales & the Relief show their ability to compact a vast array of influence & experience into a singular & distinct sound. Together the quintet provides a vast amount of influences & gift a broadened door of multiple genre stylings to music enthusiasts & listeners alike. Some of the top band influences consist of Alabama Shakes, Chris Stapleton, The Meters, Black Joe Lewis & the Honey Bears, Vulfpeck & Black Angels.
The Kind Thieves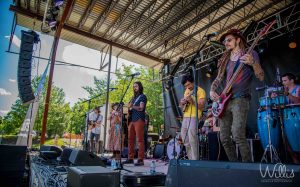 The Kind Thieves are lined up to do two miraculous sets this year at Mountain Music Festival. Aside from kicking off festivities at the main stage Friday afternoon they are also getting a piece of the Thursday night pre party at The Lost Paddle. This group of 8 is truly something special with their mix of bluegrass wildfire transitioning into a psychedelic experience. Hailing from Beckley, WV The Kind Thieves are no stranger to ACE Adventure Resort and we love stomping our feet alongside the group.
Aqueous
Aqueous will keep The Lost Paddle deck rocking late into the night Thursday. Tearing out of Buffalo NY, rock/groove powerhouse Aqueous has built a name for themselves nationally, following years of touring and high profile sets at festivals like Summer Camp, Peach Festival, Moe.Down and countless others. Aqueous has built a reputation for bringing high energy and tireless effort to their craft, and fans rave about the uniqueness and power behind every performance. Featured as one of Relix Magazine's "On The Verge" artists and having shared the stage with the likes of Umphrey's McGee, Lotus, Papadosio & more, there seems no limit to the quartet's journey to the top.
Make Your Plans
Get to ACE Adventure Resort Thursday afternoon to setup for the best weekend of the summer! You will score the best campsites, beat the crowds, get a sneak peak into the festival grounds, get an extra day to play at the waterpark, and the party on the deck that night will be off the wall. Get your 3-Day pass now and save big with early bird deals. 2018 is going to be on fire with TWO NIGHTS of Umphrey's McGee and Big Something plus over 20 other bands on this years lineup. See you in the mountains this June!