As the sun breaks the horizon each morning wander over to the
Tito's
Strange Stage in the campground. Grab a taste of fresh ground
Strange Coffee
, get a bite to eat, and dive right back into the musical paradise that is Mountain Music Festival. This little oasis in the middle of the campground is a great daytime chill spot featuring a small stage, great people, food vendors, as well as glorious showers and bathrooms.
Tito's Handmade Vodka
has also come on board to support MMFest in 2018 so look for some tasty giveaways here. Plus our friends
Strange Coffee
will be grinding the beans and roasting delicious coffee to keep you going all weekend.
Waking Up Friday Morning
An advantage to the 3-Day pass is a nice chill Friday morning. While everyone else is rolling into the campground and setting up for the weekend you will have your feet kicked up and jamming with the Americana roots music of
Flat Tracker
. This
West Virginia
band would be best defined as a rock 'n roll band that lets their Appalachian flag fly. Fiery and full, Flat Tracker is for fans of homegrown honest music that all kinds can enjoy Another Mountain State band,
Union Sound Treaty
is bringing their mix of foot stomping music you might expect to hear in an Appalachian small town saloon. The boys of Union Sound Treaty take their audiences for an intense ride of hopeful highs and woeful lows with their blend of country, Americana, southern rock, bluegrass, and blues sounds. Show goers can rest assured they won't be hearing any of the ear numbing clichés so often reused and reworded. Instead, audiences may find themselves in the shoes of some well-intentioned yet desperate criminal on the run or a hard working Appalachian giving up on the world to go find solace at the bottom of a glass on a Mexican beach.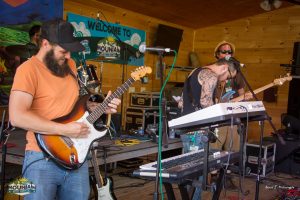 As morning turns to midday
Dr Slothclaw
, The Pennsylvania based freak funk phenom will put a little juice back into your step. If P-Funk and Zappa had a lovechild, it would be Dr. Slothclaw and these guys have been blowing up the live music scene with their funky mix of blues, psychedelic and jam since 2006. While the band points to such bands as
Turkuaz
, Lettuce,
Pink Floyd
, and
Primus
as inspiration for their cross-genre sound, they find their home in the traditions of funk and blues. Dr Slothclaw is back for their second MMFest after lighting a fire on the lake stage in 2017.
Saturday Morning Around Camp
Matt Mullins & The Bringdowns
is no stranger to ACE Adventure Resort and the thousands of rafters who have come to this corner of West Virginia to tackle the beautiful whitewater rivers. These guys are an Appalachian Rock band that have found a niche all their own. The stories in their songs are almost as diverse as the influences you hear in the music. Heartfelt Appalachian folk songs meet heavy country blues Saturday morning with
49 Winchester
on the
Tito's
Strange Stage. Combining the poetic & heartfelt lyrics of singer/guitarist Isaac Gibson with both traditional & modern influences, they quickly gained momentum & released their debut self-titled album in 2014. With an added rhythm section and the band has toured the east with their melodic blend of high-energy folk rock over the last four years. 49 Winchester has stayed true to their roots & is making a name in the world of Americana music. The band's unmistakable realness shines through their live performance.
The Parachute Brigade
is a 5-piece Indie/Folk Rock band from
Beckley, WV
.  Their sound is a mixture of acoustic Americana and ambient Indie Alt Rock. Their vocal harmonies and driving instrumentation provide a unique sound and an emotional listening experience. They recorded a 5 song EP of original music in Nashville, TN over the summer of 2017, and are in the process of touring these songs as emerging artists at festivals and venues this summer.
But Wait There's More
We are super excited to be sharing our
2018 lineup
and it is great to see more and more of the puzzle pieces coming together. We still have more announcements and news coming your way over the next few weeks. We know you are itching to know who is headlining the mountaintop stage this June 1st and 2nd. Be sure to follow us on
Facebook
and
Join the Event Page
so you don't miss any MMFest2018 news.
Tickets are on sale now
and you can save big with early bird deals. Start packing your bags and make plans to be at
ACE Adventure Resort
this summer.