We are getting fired up for the 5th round of Mountain Music Festival coming to
ACE Adventure Resort
May 31st – June 2nd. Right now we are knee-deep in planning programming, booking bands and scheduling marketing for the show at the beginning of summer. Each year we try to bring new and exciting aspects to this event and 2018 is looking pretty spectacular!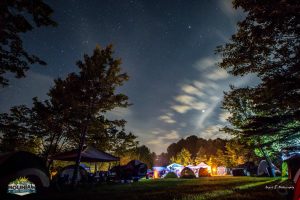 Some BIG changes are hitting the mountaintop campground this year. New in
2018 general admission passes
will include tent ONLY camping. As the event continues to grow we need to maximize the space in our campground so there is room for everyone. Also we wanted to increase safety with less vehicles driving around in the campground. Car camper fanatics don't fret we have car camping upgrades available where you can bring your vehicle right to your campsite. Also all VIP packages will include car camping upgrades. Did someone say
VIP Packages
? Yup, we are introducing a number of VIP packages for the first time this year. These VIP packages will get you added perks, special sets, camping upgrades, and more. New in 2018 we will be bringing in a VIP lounge near the main stage to help you relax and cool down. Stay tuned for info on the VIP lounge and all the great benefits coming your way soon. We are also planning on hitting the road again this spring to visit some of the regions best music venues. We will be bringing some of Mountain Music Festival's favorite bands along with us to these select cities. Stay tuned to find out how you can party with us and score free tickets plus other giveaways. We would love to hear from you about what cities and venues we should add to our hit list?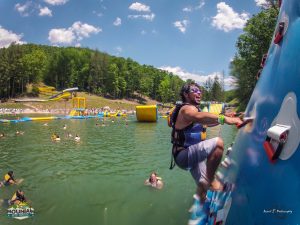 Did you know all festival tickets include passes to
Wonderland Waterpark
smack in the middle of ACE Adventure Resort? What better way to cool off from the summer heat then jumping off the 25-foot tall inflatable tower or splashing down one of the lakes many waterslides. Bounce around on brand new inflatables while swimming in the 5-acre lake. Another new feature festival goers will find by the waterpark is the lakeside bar featuring frozen drinks both alcoholic and non-alcoholic as well as a selection of soda and beer. Plus we are hard at work this winter creating some other big surprises on the lake we just can't quite tell you about yet. Stay tuned for more news on what's coming to the waterpark this summer.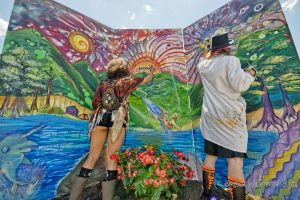 Over the last four years of growing MMFest we have loved how integral art has become to the event. When we set out to create the first Mountain Music Festival we did not envision art being a centerpiece to the event but as we roll into 2018 the artists and installations are just as important as the great bands on the stage. One of our favorite parts last year was the entrance mural created at the beginning of the festival by the talented team of visual artists. As you enter the festival grounds on June 1st you will be greeted by new art installations alongside the giant guitar Jeremy Loveland created for us in 2017. We are also looking for artists interested in creating festival art. If you have an idea for something you would like to create we'd love to hear from you. You can drop us a line anytime at
info@MountainMusicFestWV.com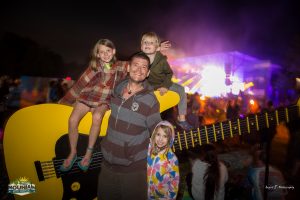 We can't wait to release some of the fantastic art we are working on currently. Right now
Brian Zickafoose
is working on creating the 2018 Mountain Music Festival Lineup Poster. For the first time we will be running special limited prints of this poster and selling those at the festival. We have had a huge demand for festival merchandise like these posters, shirts and hats. Be sure to check out the merch tent this summer while visiting MMFest and pickup some great new gear. Like shopping? Don't miss the 25+ vendors plus the onsite outfitter store by the waterpark that has the world's largest selection of ACE Adventure paraphernalia plus camping essentials, snacks and beer to go. There are a lot of great things going on behind the scenes for the 5th installment of Mountain Music Festival and we are itching to tell everyone who are headliners are, who is playing the secret set on the
zip line
, what bands will be playing the lake stage Saturday afternoon, and so much more! Stay tuned for exciting announcements coming at you each and every week until the end of the year and right on into 2018.
Early bird tickets
are on sale now and you can save big by purchasing now. Keep checking back as the new website evolves and grows bringing you the latest and greatest MMFest2018 news. You can also follow us on
Facebook
and
Instagram
and be sure to join the
Facebook Event Page
. We can't wait to see you on the mountain May 31st – June 2nd!